After Lil Pazo challenging musicians by donating 80kgs of posho, several musicians have started emulating the 'Bigooli' singer by giving back to the needy people during this quarantine.
Among the musicians who moved out to Donate included Bebe Cool who has donated posho to specifically three categories of people; the Tuberculosis (TB) Patients, since he's an ambassador of TB in Uganda, Djs – for playing Ugandan music, and Journalists.
The singer has donated 500 bags of posho to the TB Patients, 200 bags of posho to Journalists and 200 bags of posho to Djs.
The Gagamel boss has taken his donation to the authorized task force of covid-19, Prime Minister's office and was highly appreciated by the Minister of Health, Acieng.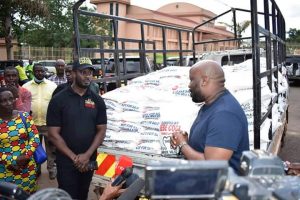 The 'wire wire' hit maker has lastly begged his fellow musicians, entertainment venue and bar owners to give back to the people, especially the djs who work in those places and are now starving.
Other musicians who have donated so far include; Bobi Wine, Mesach Ssemakula, Lil Pazo and Spice Diana, Raba daba, among others and many more have promised to give back, such as Eddy Kenzo.