NBS TV Kurt Show presenter and singer Tuff B born Robert Ssekidde has also moved out to join the number of musicians who have come out to give back to the needy people during this quarantine.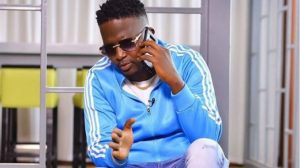 The 'yambuna' singer has today donated 1.5 tonnes (1,500 kilograms) of posho to the Corona Virus task force. However, out of the 1.5 tonnes of posho that the NBS TV presenter donated included a one tonne that specifically went to the support of Uganda journalists who are greatly affected due to the corona virus pandemic outbreak and this was handed over to the Uganda Journalists Association (UJA) president, Mbazira Bashir Kazibwe.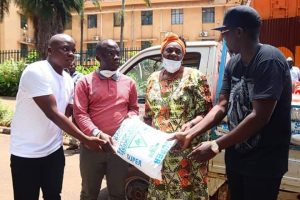 The remaining 500 kilograms of posho was then taken directly to the Prime Minister Office to support the other starving Ugandans, thus being the first journalist and one of the few musicians to donate to the needy during this corona virus lockdown. After his donation, the self-styled 'Lonely Walker' revealed that it is high time that fellow musicians and journalists acted exemplary in giving back to the needy.
Large up to yourself Tuff B and may God continue blessing the work of your hands!!!!