The Uganda People's Defense Forces is set to recruit more 4000 soldiers this year. The UPDF is to embark on countrywide recruitment of soldiers within the different districts of Uganda.
It has been established by the Uganda Today that the recruitment drive is expected to start on December 27th and shall run until January 5th, 2020.
In a press statement issued on Saturday, the UPDF Spokesperson Brig Richard Karemire indicates that the coming recruitment shall be conducted in about 35 centres across the country. In the statement, Brigadier Karemire notes that this year's recruitment like the previous ones aims at attracting very composed and patriotic Ugandans ready to serve in regular and specialized units.
He adds on that this will also offer an opportunity to the UPDF to fill gaps created by retirements and also tap skills of personnel with competencies in science subjects required in a modern army.
Requirements for Recruits
According to Karemire, for one to be recruited he or she must be a citizen of Uganda holding the original national ID card, good health and must be ready to undergo check-ups. Recruits should also be able to do road runs and drills that security personnel undergo. The recruit should also be between the age of 18 and 25 for regular soldiers and the age the of 18-30 for professionals respectively.
Regular recruits should possess a minimum education of Uganda Certificate of Education and Advance Certificate of Education with bias in science subjects such as physics, chemistry and mathematics. However, for those seeking to be recruited as professionals, they must possess a Degree or Diploma in medicine, Engineering, Chemistry, Education or vocational skills.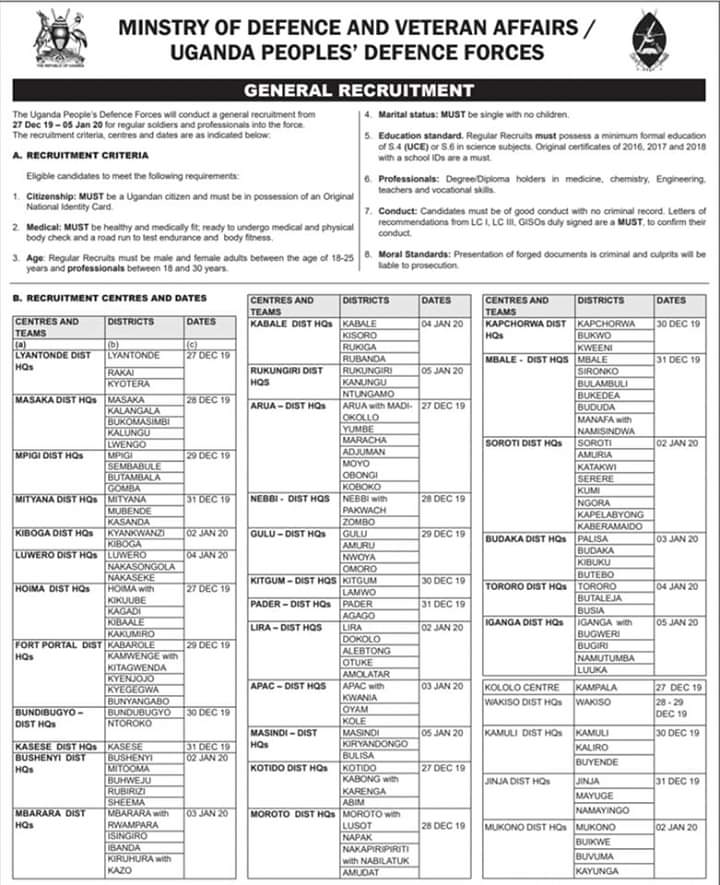 How the Exercise is to be Conducted
Brig Karemire says the UPDF leadership has set up teams to ensure that the exercise achieves its objectives within the time given and all districts are encouraged to mobilize youths to ensure that their quota is realized.
He cautioned that recruitment into the UPDF is not an off-the-hook job opportunity but rather a patriotic calling to serve the country in a field that requires great sacrifice and determination.
The recruitment shall start from Rakai, Lyantonde and Kyotera districts and the recruitment center shall be at Lyantonde district headquarters on December 27th.
President Yoweri Museveni, also the Commander in Chief of the Armed Forces cautioned against the recruitment of those without integrity into public offices.