"My job is not just news, it's a relationship…. It demands speed, accuracy, tests and stretches…… I have to be meticulous, current and consistent…. because I work with a leading brand… My name is Samson Kasumba and I am NBS always" Those are the words in one of NBS TV's ads and it says a lot about him beside; "TV host, critical thinker and theologian who is keen on ethics" that he put on his Twitter profile! According to the Nile post, Samson Kasumba was arrested yesterday outside the Next Media offices after the Live at 9 news bulletin with Sheila Nduhukire.
Samson was then taken to Kira road police station according to a tweet from his co- anchor Sheila Nduhukire. While addressing the media, Uganda Police's spokesperson Fred Enanga confirmed the arrest with charges of "subversive activities"; in contrary of what had earlier been reported: sedition! " Our experts and detectives from electoral and political department are interrogating him, " Enanga said adding that the self made TV host had been collaborative.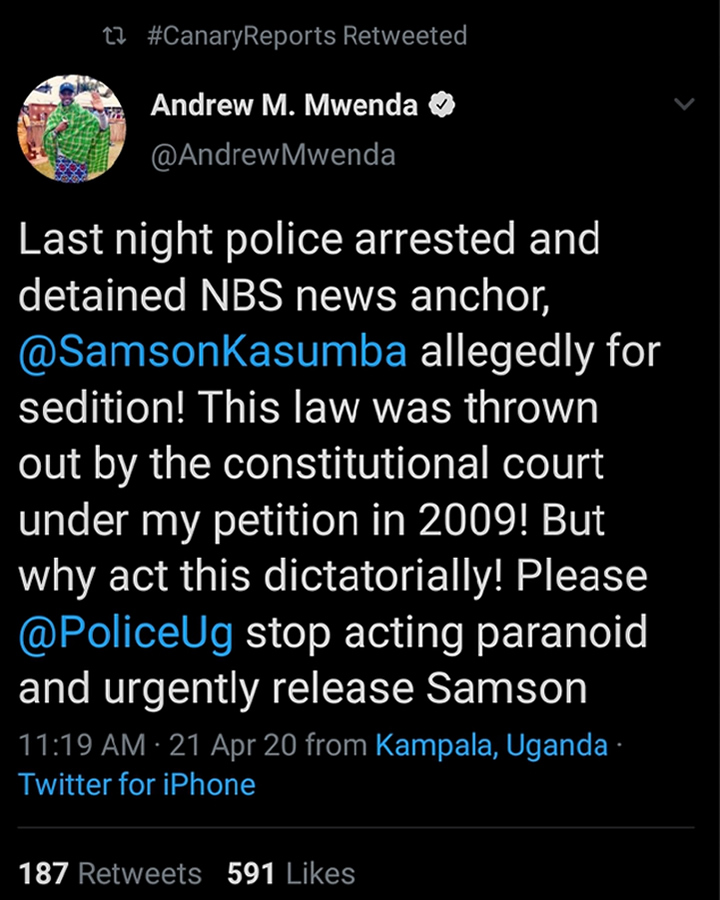 Bold, accurate, reliable, balanced are some of the values of NBS TV for which Samson works and I choose to borrow the values for a while and dig into what the plosive grammar used by Uganda Police means; SUBVERSIVE… means to overturn, overthrow, ruin, corrupt and confound a foundation whereas SEDITION… means organised sentiment of rebellion or civil disorder against authority. With such unpalatable meanings, the Police further clears it that Samson's arrest is in no way connected with his role as a journalist. According to Andrew Mwenda, a veteran journalist, the earlier charge; sedition, was thrown out by the Constitutional Court in 2009 under his petition according to his tweet which also claims that Police hit NBS TV this morning to arrest another TV host Simon Kaggwa Njala.
The bad got to worse when Samson was driven to his Naalya home by police in a white van registration number UAR 586B for a search. The action that causes a lot of contradiction apprehended police and brings a lot in question. Has the theologian departed from his value of being keen on ethics or is the police afraid of being keen on ethics??? That is a question for you and me!