On an interview on Spark TV's Live Wire Show, popular events organizer Abby Musinguzi alias Abitex went on to disclose his fond feelings for the Uganda President of Traditional doctors, Maama Fiina – real names Sophia Namutebi. The events organizer affirms that Maama Fiina gives him sleepless nights and that if he dare gets a chance to come close to her she won't survive him.
The featherweight events organizer went on to sing praises of the rich traditional doctor saying that she is a very decent and hard working woman every man would love to be in love with, and that since she is a widow and now a single woman, he would like to take that advantage to marry her.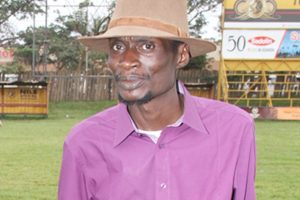 However, when talked to Maama Fiina, she just laughed at the nanoscopic events organizer saying that she is a married woman who is soon introducing her man. Maama Fiina further claimed that she would have introduced her man by now only corona virus being the remedy, but after all this is over, she's to introduce her man soon.
She however welcomed Abitex's commendation and she also praised him for being a very responsible man who she barely hear in wrangles. Maama Fiina said that the only thing she can do for Abitex is giving him one of her young sisters or nieces in case he needs one, because their clan is too big but for her (Maama Fiina) case she's already taken.