Ugandan celebrated artist, Eddy Kenzo, is one of the Uganda nationals who were caught up outside the country during the lockdown. The extension of the lockdown to 21 days has even added salt to an injury prompting the Big Talent boss to resort to his "usual cries" over social media.
The Big Talent chief will not forget the Covid-19 and since Uganda suspended all flights, Kenzo has cried for help from the Uganda government to allow him "get special treatment" and get back home. At the time of suspending the flights, Kenzo was in Ivory Coast where he had gone for a music tour! Up to today, he is now stranded in a hotel in Ivory Coast but his wait for things to get back to normal is still in vain.
Yesterday he was one of those people who eagerly waited for the presidential speech, as the president addressed the nation on the pandemic covid-19 and the end of the initial 14 Days of Lock Down at the Nakasero state lodge.
However, the news that broke the Carmel's back came in after the president announced the extension of the Lock down to 21 more days. Like most of the Ugandans Eddy Kenzo seems not to be happy with President's decision to extend the lock down for the other 21 days and he now pondering over the next move.
The singer says that he was watching the president keenly as he extended the lockdown to 21 days of which the 'semyekozo' singer says it's a good idea for safeguarding the citizens but for his case he's really badly off financially, where he is.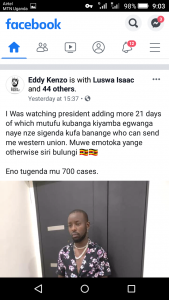 He has therefore begged for help and promised to give out his car to Whoever is ready to send him some money on western union otherwise he's about to die.
He also reported that he doesn't feel safe to be in a country with over 700 confirmed cases and he is wondering how he can get back home.
Kenzo is not alone! There are many Ugandans stranded in different countries including China, UAE and more. However his hopes seem dim since Uganda is concentrating on the already "imported corona virus cases" and protecting the citizens who are locked inside the country.
Let us keep our fingers crossed to see if the "gavumenti weyayu" singer will get anyone to save him in these terrible days where everyone is saving his little money to buy posho and beans!