BET Award winner, Eddy Kenzo, has been one of the many people who have sent soul-stirring birthday messages to the dimpled Rema Namakula.
Though the former lovebirds, Kenzo and Rema, parted ways towards the end of last year, the 'tweyagale' hit singer continues to show that there's no ill feeling between them besides their 'out of the blue' break-up.
The 'clear' singer has today turned 29 years of age for the reason she was born on the 24th of April 1991.
Ex-hubby, Eddy Kenzo, tweeted an affectionate birthday message to her via his official Twitter account and Facebook page. He also used this chance to wish the mother of his youngest child (daughter), Aamal Musuuza, a happy and blessed Ramadan.
"Happy birthday to Rema Namakula Sebunya maama Aamal. Ramadan Kareem and enjoy your day", tweeted Kenzo.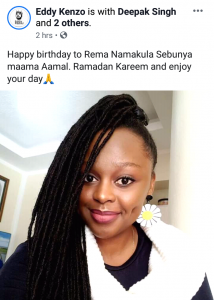 HAPPY BIRTHDAY REMA NAMAKULA!!!!!!