During an interview on NBS TV's Sunday show known as 'Chat Room', singer and mother of one – Fille Mutoni disclosed how she stopped and no longer loves the so-called 'King of the Mic', MC Kats real names Edrine Katamba.
The two have been in an intermittent relationship throughout but gladly they managed to get a beautiful daughter together.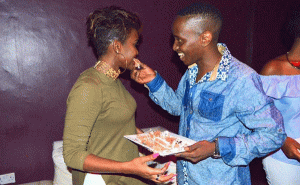 Meanwhile, whereas MC Kats could be stuck to the 'mudaala' singer, the singer has revealed that there are no chances they can relight their love as she already moved on. Fille said that she passed through a lot of suffering with the svelte MC/presenter and so she wanted to heal and find new love.
However, we all know how affectionate Kats is towards Fille and he isn't the type of man that will give up so easily, especially on Fille because she is that woman he speaks of from time to time. MC Kats has overly been heard saying he will do anything to win Fille back and he is about to do that.