Zambian songbird by names of Victoria Wezi Mhone musically known as Wezi Heartsound is currently one of the top musicians in her country, Zambia. The 27 year old singer is very much known for her sweet and catchy melodies making her highly rated in Zambia.
Wezi has made a cover of "take my heart" song originally sung by Radio and Weasel featuring Zambia's legendary singer General Ozzy. The song was featured on Ozzy's "Kobili" album which is amongst the General's 7 studio albums. The multi-talented Wezi says he made this song cover for the love of General Ozzy and Weasel and in honor & loving memory of Mowzey Radio.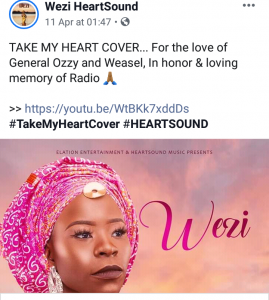 Wezi, who brands General Ozzy as her hero and Radio and Weasel as finest artists, claims that her 'take my heart' song cover is a tribute to both her hero and the deceased Ugandan icon, Radio. Wezi's tribute song was officially released on General Ozzy's birthday, 11th/April/2020, as his birthday prize.
Though the original version of the song is of high tempo, Wezi decided to make a cool masterpiece out of it and it's absolutely lovable! Below are both songs; the original and the redone cover of 'Take my heart' song by Wezi.