If you just passed by UBC,Crested Towers or the national theater side you will be surprised to see the beautiful modern building changing the skyline of Kampala city up in the clouds, worry not, this is another project delivered city tycoon Dr. Sudhir Ruparelia and his family.
The magnificent Kingdom Kampala building officially was officially opened early this week an iconic that has changed the growing beauty of Kampala's skyline its now ready and open for occupation it serves all classes and categories of people who like fashion and class.
The iconic property, which is the newest addition to Kampala's glistening skyline, was constructed at a cost of more than $300 million. It has taken more than a decade to build. Kingdom Kampala is a mega-mixed use mall situated in the city's Central Business District.
Out of the 40,000m2 built up area, 22,000m2 is lettable, consisting of 18,000m2 of office space, 4,000m2 of retail as well as parking for up to 450 cars. The property has 10 floors of office space, 47 retail units and 3 floors of basement parking.
It was pomp and celebration over the weekend as US$320m Kingdom Kampala Mall owned by the Ruparelia Group was officially opened to the public on Sunday.
Mr. Rajiv Ruparelia, Managing Director/CEO Ruparelia Group who drove the Project from inception to completion and is also the Managing Director of Crane Management Services Ltd, officialy opened the building alongside Jyostna Ruparelia, a Director.
Kingdom Kampala mall, which is now one of the marvels in the Kampala sky is located between three main roads; Nile Avenue, Yusuf Lule Road and Dewinton Road to the northeast of Central Business District of Kampala.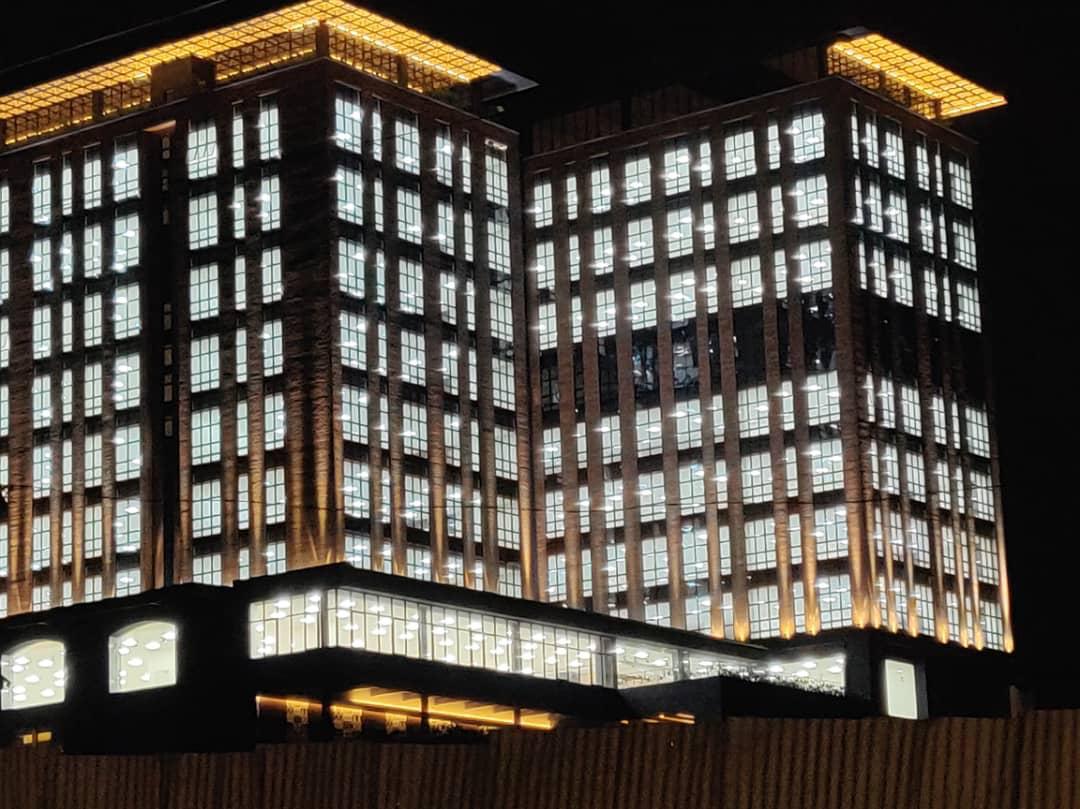 Addressing guests, who included top Kampala tycoons, Rajiv revealed that the building has been opened at "a strategic" time when Uganda's oil sector is booming, noting that it will offer office space to the sector as well as others.
Mrs. Jyotsna Ruparelia Cutting the Tape at the official opening the Kingdom Kampala Building.
He described the "phase one of the building" as unique, noting that there are a few buildings like it in Uganda. He revealed the total built up area is 42,000 square meters.
Local Business people, Traders, Tenants, Potential Tenants, Young city businessman, Gideon Kirumira and wife all attended the event.
Rajiv clarified that the facility has 22,000 square meters of let-table retail & office space, parking for up to 450 cars and sprinkler fire suppression system.
The magnificent building has backup generators that can power the building for up to five days in case hydro power is off or if city is under load shedding.
Kingdom Kampala also has 400 on spot CCTVs to provide adequate security monitoring and control.
Inside the twelve floored multibillion and multipurpose complex is also a 200 bedroom 4 Star Hotel and a 16,000 square meter rentable space for leisure related kind of businesses.
Construction on Kingdom Kampala started off in 2006 after Saudi investor Prince Alwaleed bin Talal leased 15 acres (6.1 ha) of prime land in the center of Kampala from the government of Uganda for 99 years.
Alwaleed's company, Kingdom Holding, was supposed to build a five star hotel to be opened in 2009.
In the aftermath of the 2008/2009 financial crisis, Kingdom Holding failed to mobilize financing to complete the Hotel, and in 2016 Ruparelia's Crane Management Services (CMS), a subsidiary of Ruparelia Group, acquired the property and restarted construction work.
Sudhir, Uganda's richest man in Uganda and among the riches in the east Africa region serves as founder and Chairman of the Ruparelia Group of Companies that has interest in Education, Hospitality, Entertainment, Health, and Foundation among others.
This has since grown considering the fact that he has been opening more new buildings in Kampala and the surrounding areas.
Ruparelia Group CEO and Developer of the Building Rajiv Ruparelia (Center),His wife Left with smiles sharing alight moment with a child of one of the guests at the opening ceremony of Kingdom Kampala Building.
It's a major feat for Ruparelia, 62, who over the last three years has suffered a series of setbacks in running his business empire. In 2017, the Central Bank of Uganda shut down four Forex Bureaus owned by his conglomerate. A year before that, the Ugandan Central Bank took control of Crane Bank, the commercial bank that the Ruparelia group controlled, over what the country's apex financial institution described as capital inadequacy problems.
Sudhir Ruparelia is the founder and Chairman of the Ruparelia Group, one of Uganda's largest conglomerates. The company owns a string of hotels and country clubs and more than 200 commercial properties and business enterprises including schools, universities, and horticulture.
Ssalongo Gideon Kirumura a Young Entrepreneur with his Twins did not miss the Event.
Rajiv Ruparelia said relocating Shimon schools  was inevitable and timely as it was time for the relocation of Shimoni Demonstration Primary School to pave way for development in the city, Mr Rajiv Ruparelia, MrSudhirRuparelia's son, has said.
Mr Rajiv made the remarks during the official opening of Kingdom Kampala Shopping Mall on Nile Avenue."Shimoni served its purpose.
However, it was whether to leave Kampala underdeveloped or developed. As urbanisation takes shape, a lot of changes happen and this goes hand in hand with the growing population," he said.
"When Shimoni was here (Nile Avenue), Kampala's day population was about one million people but now the number has increased to about four million people.
Mr Rajiv said as the city expands, schools can be established in growing suburbs to avoid pressure, especially in the city centre where many changes are inevitable.
Rajiv said the Ruparelia foundation has mobilized billions of shillings to support and offer education services to Kampala's children from the urban poor.
The mall will have a restaurant, hotel, office space, a parking space of 500 cars, among others.
Invited Guest enjoying the treat at beautiful scenery of public area at the Kingdom building after opening it. recently.
Mr Rajiv said the 13-floor building targets multinational companies, the middle-income group, government ministries and departments, and the oil and gas sector as their tenants.
Asked whether they are not worried of the low occupancy rate which many city buildings are grappling with, Mr Rajiv said as the city grows, so is the pressure on the available space hence the only remedy is towering structures.
Mr Christopher Higenyi, the architect of the mall, said the designs were inspired by the demand by corporate companies whom he said want a serene environment.
"Even when multinationals are looking for office space, they need space that matches international standards. However, much of the designs on this mall are made of our local products such as back cloth. This mixture makes it a beautiful place and we are happy that it has improved the city's skyline," he said.
The Ruparelia Group
Since its inception, the Ruparelia Group of Companies has been committed to the establishment and development of innovative pioneering and enduring businesses among various sectors in Uganda, including: banking, insurance, hospitality, conventions and leisure centres, education, real estate and floriculture.
In a period of over 20 years, values instigated by The Group's Chairman, Dr. Sudhir Ruparelia, have been propagated in the operations and performance of the various Ruparelia Group businesses, most of which are the Country's leading players in their respective sectors.
Dr. Sudhir Ruparelia was born in Uganda and along with his parents moved to UK in his early teens, where he engaged in a number of small business ventures. It's from experiences in these business ventures that the Doctor honed his business acumen, something that drove him to return to Uganda and tap into the business benefits of the then newly obtained political and economic stability.
He has since overseen the inception, development and success of over 20 Ruparelia Group businesses in various sectors, with early business activities concentrating on developing foreign exchange facilities in Kampala. With the support of a professional management team, all Ruparelia Group companies continue to expand and develop under the guidance of the Chairman.
The Group motto, "Serving to Grow and Growing to Serve" aptly describes Ruparelia Group.