While planning to travel to Uganda or any other state in Africa, car rental in most cases is a must especially while traveling for business, a road-trip adventure, self drive safari or any other purpose that requires you to move from to one place to another.
However, in spite of whatever 'purpose' you want it for, you still need to get a good Car rental that will not keep you stranded on the road or dry out your wallet which can lead to cancellation of your useful programs ahead of the day. There's more to renting the car than just reserving it and paying for it, to make sure that you get the best deal of renting a car in Uganda, we have shared some steps to follow while choosing a good car rental for your next visit to the Pearl of Africa.
The first step in getting a good car rental, choose three to four car rental firms that fit your wants and needs. This can be done through the internet. Remember to scan every possible firm before you make a choice.
After making a list of 2 – 4 firms, contact each and ask about their rates, vehicle and special offers as well as extra fees if any. In Uganda, some agencies offer discounts to long term rentals starting from a week while short term rentals such as 1 – 3 days may sometimes come in with extra costs of dropping and picking up the car.
Ask about availability, pickup locations, insurance, extras as well as everything you can think of that can help lower what you have to pay for your car rental, or what would make the car rental more convenient for you.
Among the most popular Car Hire in Uganda extras offers in Uganda by car rental agencies include Camping gear & GPS, free travel maps provision etc.
After you've totally decided on which to take, remember to reserve it, in busy periods when you don't confirm your reservation you might end up stranded on the day of pickup. Some car rentals requires a client to pay a deposit of 10% of the total rental fees in advance to confirm a reservation.
Lastly but not least, choose a convenient pickup point; This can be either at your accommodation facility or the Airport. It is always better to find one that is near or within Kampala or Entebbe to avoid extra delivery charges that to some companies go up to $30.
Meanwhile, you are always encouraged to take time while finding a car to hire in Uganda. Last minute deals may sometimes land you on a car rental that will ruin your trip with a poor quality service. Among the top tips not to leave out before taking out a Car rental include;
Know your Options
Weigh out your options based on your needs, wants and most importantly, your budget. Having a limited budget shouldn't really just force you to end up settling with just any car rental service that you see offering rates that suit yours. Shelling out a little more dollars may not really hurt you since in the end, you will need more of quality of service that will keep yu smooth on the road.
Consider a car rental reputable for providing good and efficient service to their customers but not low rates. Be sure to be cautious, some may offer really low rates but their cars may be not of real good quality. This can be gauged from a number of things including;
Number of Vehicle options provided: A Car rental that offers you 1 or 2 options to choose from while not so sure on which vehicle to use may not be good for you. For instance, while going for a safari, look out for a number of options depending on how many you are, which places you will be traveling to and activities you intend to do.
While going for game viewing, rent a 4wd vehicle with a good ground clearance and a pop-up roof may be better for your experience where as for a city tour a 4WD may not be as much useful.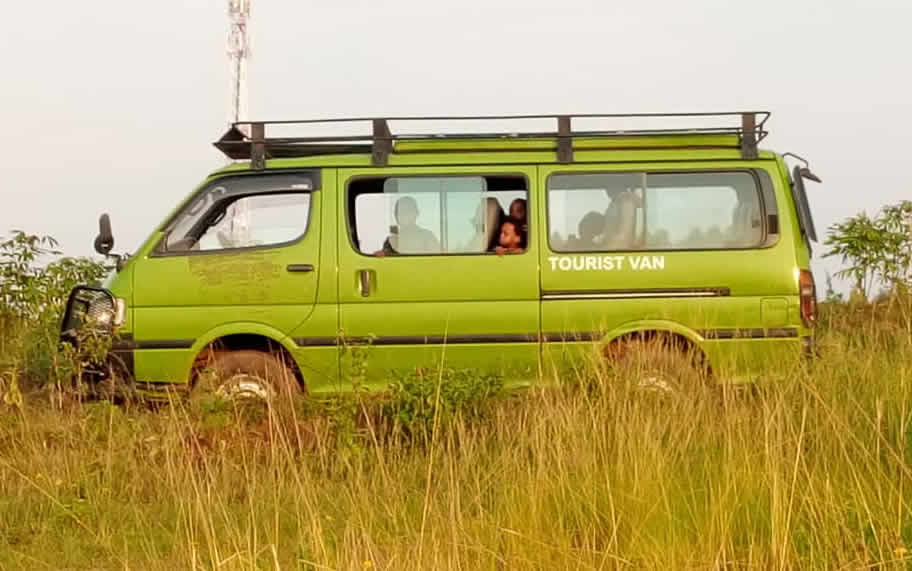 While in a group or traveling as a family, a van-like wagon such as super custom or Safari Van may be the best option. Choose a car that could fit all the people you'll have in it, and if you're alone just use a compact. Larger vehicles tend to come with slightly higher rental fees.
Special Services: You might be in need of a car rental for a few hours of just for a specific service. For this, you need to choose an agency that offers a special program suiting your needs and demand. For instance, an Airport Transfer in case you only need a pickup from the Airport to your accommodation, a one way transfer and cargo transportation among others.
Ask Around
It is pretty easy to land on a huge list of companies that are able to provide quality car rentals but the hustle can be with choosing one. Just be sure to keep a keen eye on the companies that you are choosing from. You can ask around from you family, colleagues or friends that have ever traveled to Uganda on which car rental they can recommend. Here, you can take around and check on customer rating sites such as Trip advisor to determine which could be offering better services.
Convenience
Convenience should always be considered as a must whenever you travel, most especially while in a place you know less about. While in a rented car, you are assured of being able to go whichever place you want without the hassle of hopping from one kind of mass transportation to another, while still getting good value for your money.
Lastly, always remember to be pesky , ask as many questions as possible and don't be shy to ask for discounts.