Rooftop camping is gaining more popularity in Uganda due to its various pros over the traditional ground camping and sleeping in structured accommodation such as Hotels and Lodges. Flexibility, affordability and durability of rooftop tents is one of the in small groups of 2 to 4.
Not every car can carry a rooftop tent however, before hiring a car with a rooftop tent in Uganda, you have to be curious between different types available. embarking on your rooftop camping road trip in Uganda, you need to be keen on the type of the vehicle to use or you looking at to rent. Some vehicles are not capable of carrying more than one tent and some specific types of tents. Here are some of the best car types for rooftop camping holidays in the Pearl of Africa.
Land Cruiser Prado
This is the most popular and preferred type of vehicle used for rooftop camping. It is a mid-size SUV that is known for its off-road capabilities and reliability. It is best for one rooftop tent of two people despite sometimes being used to carry 2 tents due to budget constraints of some travelers.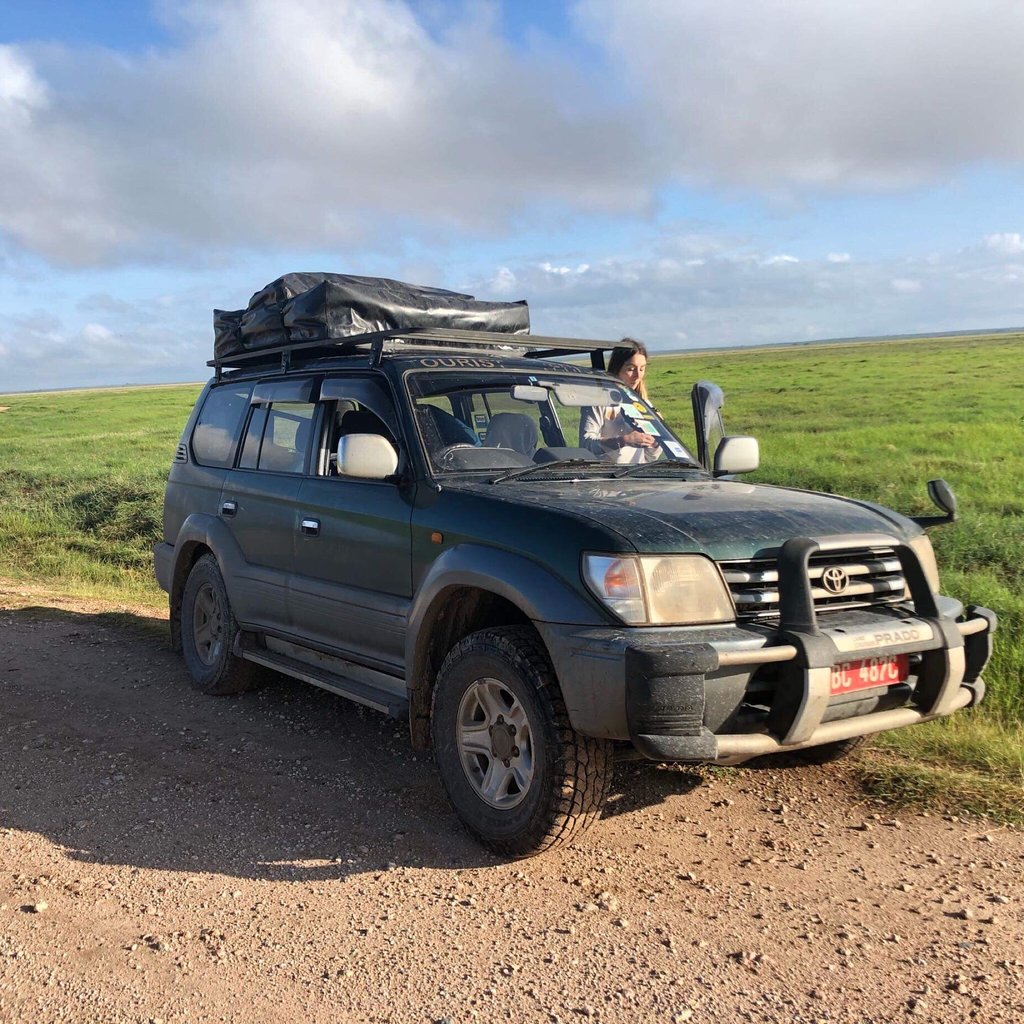 A Land cruiser Prado TX has up to 4 passenger seats and a spacious trunk to fit other camping equipment and luggage. It also offers a comfortable ride both on and off road, making it ideal for long-distance trips.
Land Cruiser V8/ VX and GX:
All these Land cruisers are almost the same in size and appearance but come with very few differences in them. They are all full-size SUVs that are known for excellent off-road capabilities that make them ideal for rooftop camping in Uganda. Due to their powerful engines and versatility, they are all great options for not only carrying one rooftop tent, but also two rooftop tents as well as the heavier family tents. The Land cruiser V8 has a spacious interior and a powerful engine that can handle rough terrain with ease and comes in Automatic transmissions.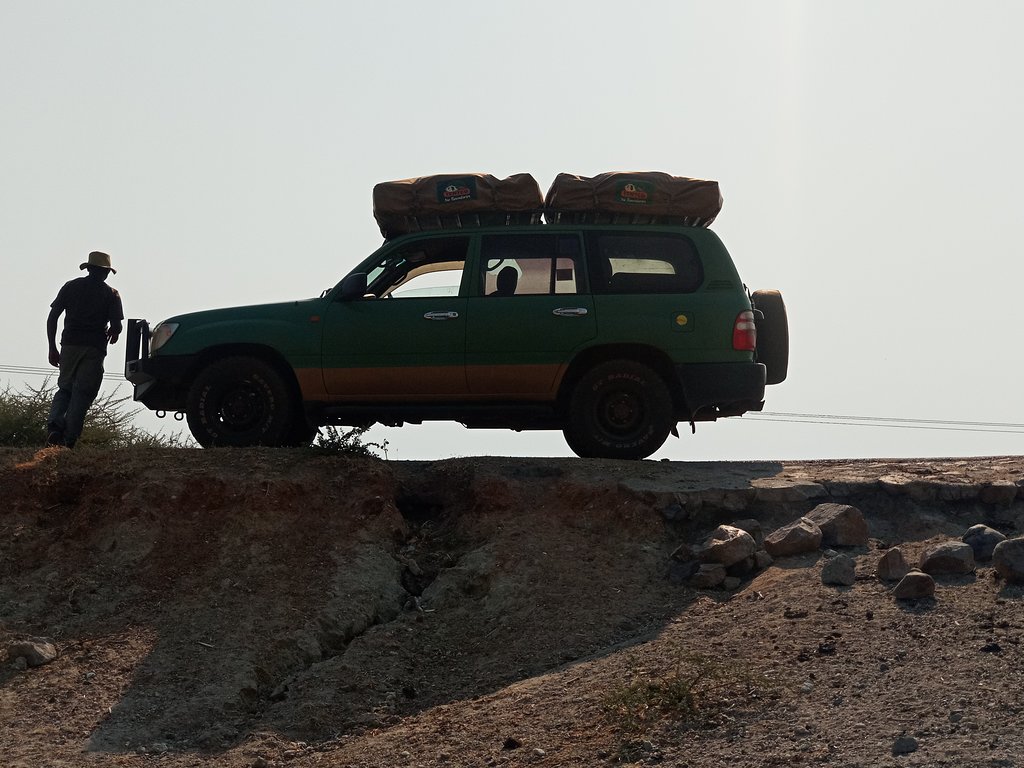 The Land cruiser GX that is mostly in manual transmission can be a better option in more challenging terrains such as those of Serengeti National Park of Tanzania.
On the other hand, the Land Cruiser VX is more luxury than the two and among the three, this should be the least preferred option for travelers not looking for comfort & style. However, its off-road capabilities are amazing as well. In newer models, the Vx offers more luxurious interior, as well as advanced features such as climate control and entertainment systems.
Land Cruiser Hardtop
This is a heavy-duty version of the Land Cruiser that is designed for rugged use. It is the best type for rooftop camping whether single or double due to its power and design intended specifically for African use.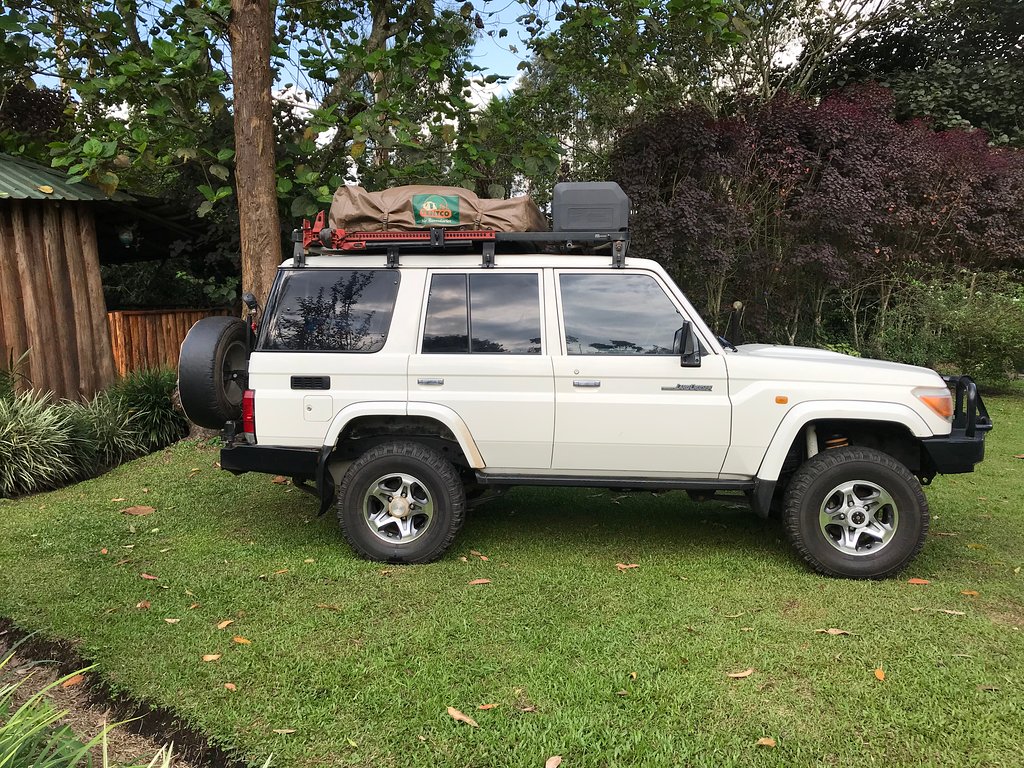 It has a reinforced chassis and suspension system, which makes it ideal for carrying heavy loads on the roof. The Land cruiser LX is the most recommended among all car with rooftop tent options as well as the most expensive. It only comes in Manual Transmission and if you are looking for class & style, this would not be your ideal vehicle. It for those looking for a true Adventure on African bad roads.
In some cases, I have seen a rooftop tent installed on Nissan Xtrail which smaller than all the earlier mentioned types but I do not have valid evidence on its performance out there in the field that's why I decided to exclude it in the writing. Meanwhile, the best car type for rooftop camping in Uganda will depend on the specific needs and preferences of the travelers. Factors such as the size of the group, level of comfort required, and budget should be taken into account when choosing a vehicle.
It is however important to choose a car type that is reliable, comfortable, and has the necessary off-road capabilities to handle the rugged terrain of Uganda.