UEGCL, AfD sign agreement to develop small Hydropower plants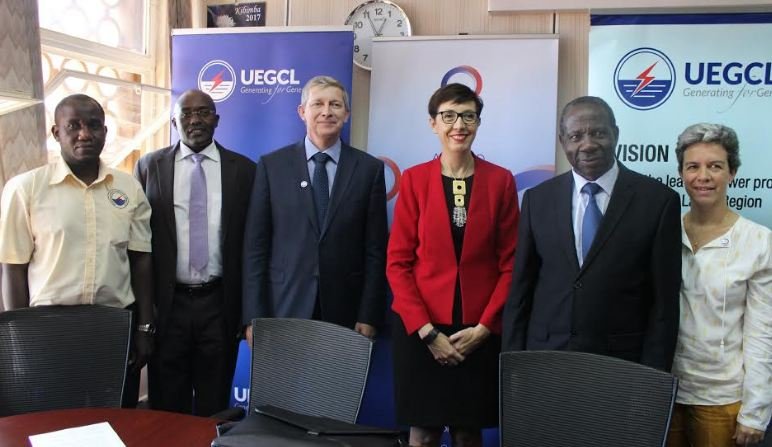 The development of small hydropower plants is pivotal in improving electricity supply and access to the rural areas of Uganda. As one of its initiatives, UEGCL sought to diversify its portfolio of Generation activities from predominantly large hydropower plants to include Small Hydropower plants.
"This was seen as a means of ensuring access to electricity to the remote and poorer communities through both on and off grid solutions with a key focus on cost effective development, and affordability, which would in turn spiral sustainable development, new economic opportunities and energy security," said Eng. Dr. Harrison E. MUTIKANGA, Chief Executive Officer UEGCL during the signing of the financing agreement at the Ministry of Finance Planning and Economic Development today.
Against this background UEGCL identified Strategic sites and thereafter sought for funding from AfD.
"As a Company therefore, we are very grateful to AfD for accepting to provide us grant financing of up to 1.5 Million Euros (approximately UGX 6.2 Bn) to undertake feasibility studies for a number of identified small hydro Power generation sites," Eng. Dr. MUTIKANGA added. These are Okulacere (6.5MW) and Agbinika (2MW), located in the off grid West Nile region.
"Agbinika is particularly important to the people of Yumbe district who are in need of a reliable source of power, said Virginie LEROY, Country Representative AFD, adding, "The development of both sites will significantly improve electricity supply and improve the livelihood of the people of west Nile."
Part of this fund grant shall be used to undertake the review and update of previous studies on the rehabilitation and upgrade of Maziba (1MW) in Kabale district. The now defunct Maziba mini hydro station was commissioned in 1963 but stopped operation in 2002 owing to a number of operational and technical challenges.
The post UEGCL, AfD sign agreement to develop small Hydropower plants appeared first on Bigeye.ug.
This post was syndicated from Bigeye.ug. Click here to read the full text on the original website.
Follow us on twitter @theugandatoday